Aptronix is India's Largest Premium Reseller, started off with just 1 store and 5 employees in Hyderabad in 2011, is now spreading its roots across India. It is now the first National Partner to Apple with 48 stores and 12 service centers across 14 cities and 500+ employees.
Having a tremendous brand presence in the South, and West of India, we have spread our wings to North India with our new stores in Delhi NCR and Ludhiana to provide you with the best Apple Experience and impeccable offers you cannot resist.
WE ARE THRILLED TO SHARE THIS EXPERIENCE WITH YOU AND HELP YOU BECOME A PART OF OUR APTRONIX FAMILY.
Join us at the launch at Ambience Mall Gurgaon on 30th July 2021 at 4:00 PM.
Kindly tap on the link to locate our stores: https://www.aptronixindia.com/store-locator
Stores open at 9:00 AM
1. Aptronix Kamla Nagar - +91 9390105411
2. Aptronix Promenade - +91 9390105412
3. Aptronix Ambience Vasant Kunj - +91 9390105413
4. Aptronix Aerocity - +91 9390105414
5. Aptronix Ambience Gurgaon - +91 9390105409
6. Aptronix LogixCity Noida - +91 9390105415
7. Aptronix Neopolis Ludhiana - +91 9390105423
8. Aptronix Pavilion Ludhiana - +91 9390105422
9. Aptronix Khan Market - +91 9390105416
10. Aptronix Vegas Mall - +91 9390105407

Offers during the launch days (30th July to 1st August 2021)
- Buy iPhone & get complimentary AirPods worth ₹14,900 or get 10% off*
- Buy Mac & get complimentary AirPods worth ₹14,900 or get 15% off*
- Get flat 5% off* on Apple Watch
- Get ₹2,000 off* on AirPods and ₹3,000 off* on AirPods Pro
- Get ₹1,000 off* on HomePod mini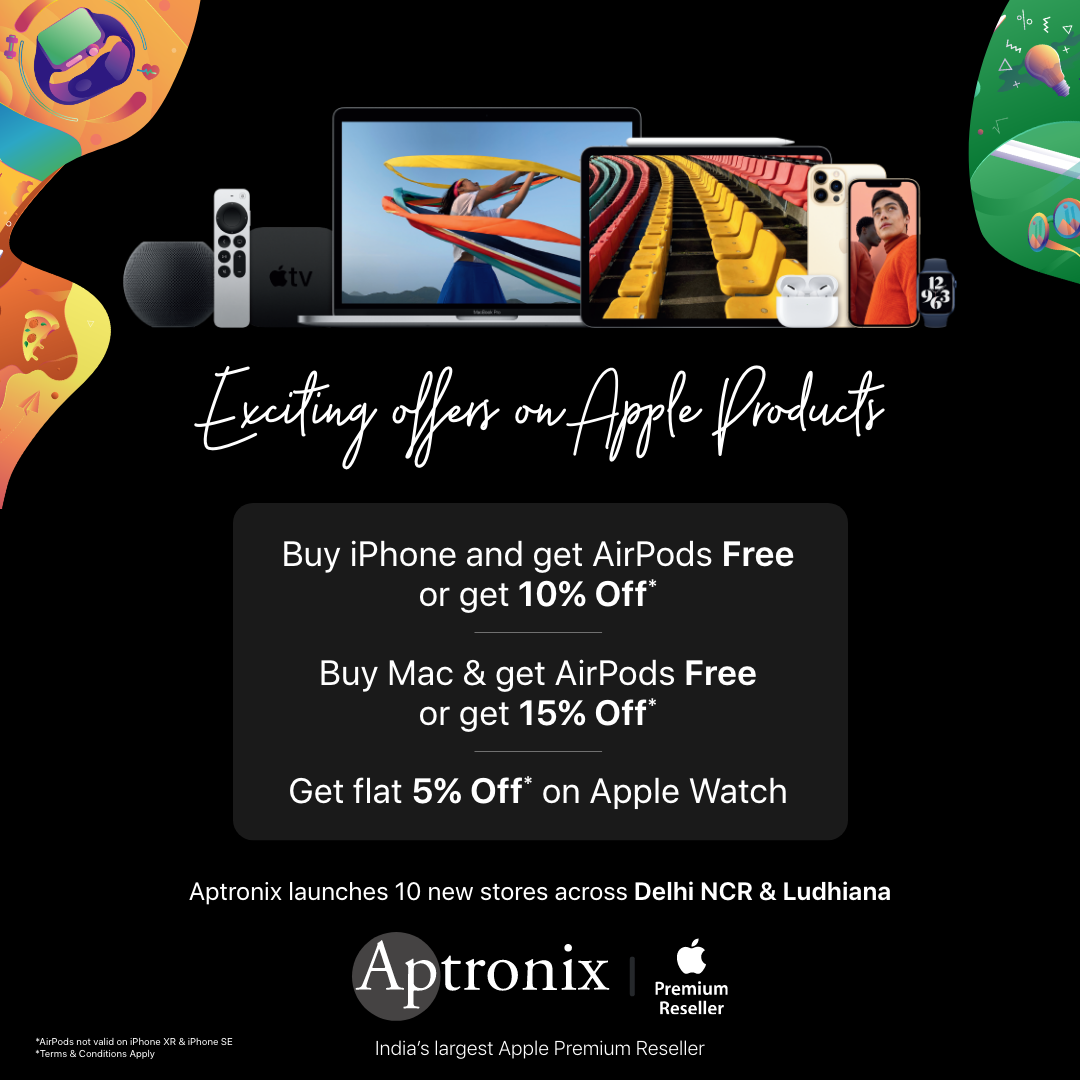 *Offers applicable only in Delhi NCR and Ludhiana stores
*Limited period offer. offer valid while stock last
*AirPods not valid on iPhone XR & iPhone SE
*15% for educational customers only. Non-education customers get 10% off or AirPods free