In today's fast-paced and hectic world, it can be challenging to keep up with our physical health. Our busy schedules, long work hours, and stressful lives can make it difficult to prioritize our well-being, especially for women.
Women, in particular, are susceptible to various health issues, such as low fertility, polycystic ovarian syndrome (PCOS), hyperplasia cancer, and menopausal transitions. That's where the Apple Watch comes in as a life-saving tool that can help women stay healthy and safe.
Designed with many features, the Apple Watch is a smart wearable that can detect irregular menstrual cycles, PCOS, hyperplasia cancer, and menopausal transitions. Tracking your menstrual cycle with an iPhone and Apple Watch, you can use the Health app and get notifications about your next period or when a fertile window is approaching.
With the latest iOS 16 and watchOS 9 updates, you can monitor your menstrual health condition easily.
You can now log six months of menstrual data and track the irregularity of your menstrual cycle, which may indicate an underlying health condition. This feature has been helpful in diagnosing PCOS and hyperplasia cancer early on, giving women a better chance at treatment and recovery.
But the Apple Watch isn't just about tracking menstrual cycles. With actionable insights, you can get a comprehensive picture of your menstrual health. The Apple Watch tracks your wrist temperature and notifies you when ovulation is estimated, making it easier for women to track their fertility and plan accordingly.
Open the Health app on your iPhone and select the Browse tab

Tap on Cycle Tracking

Finish the on-screen instructions and get started.

The length of your average cycle and the number of days your period typically lasts are among the information you've logged about your prior periods and periods in the past that are used to anticipate your next period. You have the choice to add information about your cycle history while setting up Cycle Tracking, including the day your most recent period began, how long it typically lasted, and how long your normal cycle is.
How to keep tabs on your cycle
Open the Health app on your iPhone and select the Browse tab

Turn on Cycle Tracking

To record your period, swipe to the appropriate day and then hit the oval.

Scroll down, press a category, make your changes, and then tap Done to add additional information. Symptoms, spotting, basal body temperature, and other things can all be tracked.

Open the Cycle Tracking app on your Apple Watch, swipe to the appropriate date, and then hit the oval to record your period.
Take control of your menstrual cycle tracking experience by adding factors that can influence its timing and length, such as pregnancy or contraceptive use.
Follow these simple steps to add cycle factors in the Health app:
Open the Health app on your iPhone and tap the Browse tab.

Tap on the Cycle Tracking option.

Navigate to the Cycle Log section and tap Set Up next to Factors.

Select the factors that apply to you, such as Pregnant, Lactating, Using Contraceptives, or None of These.

Tap Done to save your changes.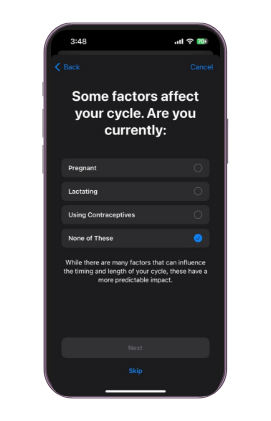 Effortlessly stay on top of your menstrual cycle with the Health app's easy-to-read display of your period and fertile window.
Here's what the symbols and colors in the app mean:
Light blue oval : This marks your predicted six-day fertile window, making it easy to plan for conception.

Light purple oval: This marks your retrospectively estimated ovulation day, giving you insights into your fertility cycle.

Red stripes on a circle: This marks when your period is predicted to occur, allowing you to plan and prepare accordingly.

Solid red dot: These solid red circles mark your logged period days, providing you with a clear picture of your menstrual cycle.

Purple dot: These purple dots mark the days when you logged information, helping you track your cycle more accurately.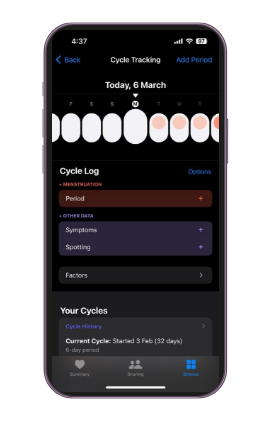 Whether you're looking to conceive or simply monitor your menstrual cycle, the Health app's intuitive symbols and colors make it easy to stay informed and in control of your reproductive health.
Taking period tracking to the next level, the Health app now incorporates heart rate data from your Apple Watch to provide Cycle Tracking estimations. With the addition of heart rate data to your previously logged period and cycle length information, the Health app's predictions are now more accurate than ever. Heart rate data is used to improve cycle predictions by default, and you can choose to turn this feature off at any time.
On your iPhone, open the Health app and tap the Browse tab.

Tap Cycle Tracking.

Scroll down and tap Options.

Turn off Heart Rate Data.
Take control of your menstrual cycle and stay informed with the Health app's customizable period and fertility tracking notifications. Here's how to set them up:
Open the Health app on your iPhone and tap the Browse tab.

Select Cycle Tracking and scroll down to tap on Options.

Enable Period Predictions and Period Notifications to stay informed of your cycle's start and end dates.

Tap Cycle Deviation Detection to choose which cycle deviations you want to be notified about.

Turn on Fertile Window Estimates and Fertility Notifications to receive alerts about your fertile window and increase your chances of conception.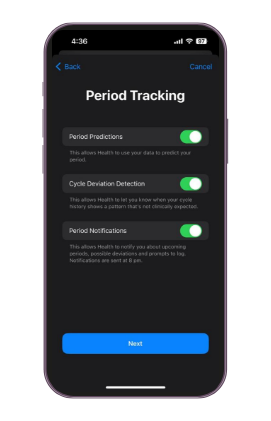 With these notifications in place, you can take charge of your reproductive health and keep track of your menstrual cycle with ease.
This Women's Day, empower her with an Apple Watch, which can help her stay on top of her health and wellness goals. With features like heart rate monitoring, activity tracking, and workout metrics, an Apple Watch can provide real-time insights into her physical health and help her make meaningful progress towards her fitness goals. And with convenient tools like Apple Pay, Siri, and notifications for calls and messages, she can stay connected and productive no matter where she goes. So this Women's Day, take the time to honor the incredible woman in your life and give her the gift of health and empowerment with an Apple Watch.
What's more! Every woman who purchases an Apple Watch at our Aptronix stores will get a Free watch band of a third party brand during 8th - 12th March 2023.