Are you tired of forgetting to take your medications on time? Do you struggle to keep track of which pills you've already taken throughout the day? With the Health App on both your iPhone and Apple Watch, tracking your daily doses has never been simpler. But that's not all - with its cutting-edge technology, the Apple Watch is also proving itself to be a valuable healthcare provider.
Apple Watch and iPhone users can take advantage of the Medications in the Health app, which allows them to create medication lists, schedules, and reminders all in one place. This feature is especially helpful for those with chronic conditions or multiple prescriptions.
Let's plunge in to know how this can help improve your overall wellness and streamline your medication management process!
One of the most significant benefits of using a medication management app is the ability to create custom schedules for each medication. This feature allows users to set reminders and notifications for their medications, whether they need to be taken multiple times a day, once a week, or as needed. According to research, 50% of patients do not take their medications as prescribed due to forgetfulness or confusion about dosages.
This feature can help individuals who are managing complex medication regimens or have multiple prescriptions from different healthcare providers by setting up personalized schedules for each medication with clear instructions and reminders. Users can reduce the risk of drug interactions by ensuring they are taking their medications safely and effectively.
Create a medication schedule using your iPhone and Apple Watch.
Open the Health App on your iPhone.

Tap on browse in your Health app and select "Medications" in the category.

Now Add your Medication. You can get suggestions from your health records if you are health records are in your iPhone.

You can enter the name of the medication in the Search field. If your medication is not listed, then tap Add and then tap Next.

You can choose the medication type. If the medication is unlisted, enter the Strength of the Medication or select No Strength Information.

Click on "Done".

Tap on Frequency and select the interval that suits you best. Once done, tap on Done.

Tap on Add a Time to specify when you need to take your medication. Once done, tap on Next.

You can choose the shape of your medication by tapping on Choose Shape. If you wish to skip this step, tap on Skip and proceed.

Customize your medication reminder by selecting the colour of the medication and its background. This will help you differentiate between different medications. Once selected, tap on Next.

Review the medication details and enter any optional details you want to include in the reminder. Once done, tap on Next.

Lastly, select any life factors that may pose an interaction risk with your medication. Once you've selected all the factors that apply, tap on Done.
That's it! You're all set to receive timely medication reminders and now you need to just log whether you have taken or skipped your medication schedule. Health App Medications is designed to make managing your medication a breeze.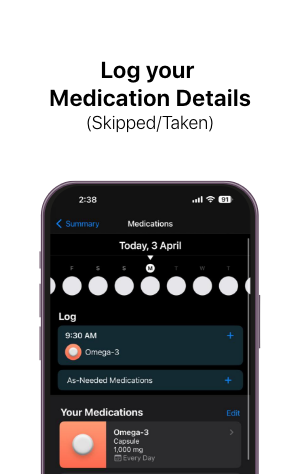 Once you have entered your medications, you can navigate to the "More" section of the Medications screen and select the "Export PDF" option to either save or share a copy of your current medication list. So you can focus on what really matters - your health and well-being.
Steps for Easy Med Tracking on your iPhone & Apple Watch
Your Apple Watch also has a Medications app with the Watch OS9 update! This feature allows you to easily log and track any medications you're taking, right from your wrist. Whether it's for managing chronic conditions or simply remembering to take daily vitamins, the Medications app is a convenient way to stay on top of your health routine.
Let's explore how to use the Medications app on your Apple Watch and why it's worth considering as part of your wellness regimen. So put on your Apple Watch.
On your Apple Watch, open the Medications app and tap on medication.

Tap Log as Taken to confirm that you have taken the medication. If you did not take it, you can select Skipped and then tap Done.

If the medication is an As Needed one, you can scroll to the medication on the Your Medications list, tap it, and then tap Log to confirm that you have taken it.

By following these simple steps, you can keep track of your medication and ensure that you stay on top of your health and well-being.

One of the many useful features of your iPhone and Apple Watch is their ability to remind you when it's time to take your medications. With just a few taps in the Health app on your iPhone, you can set up reminders that will appear as notifications on both devices.
You can get a reminder on your iPhone. You can tap on the notification and then choose whether you want to mark it as "Skipped" or "Taken."

On an Apple Watch, when you receive a reminder notification, you can tap on it and then select one of three options: "Skipped," "Taken," or "Remind Me in 10 Minutes.
Managing Medications: Archiving and Deleting medication
If you no longer need to take a medication, you can choose to archive it to take it off your list. On the other hand, if a medication was mistakenly added, you can delete it entirely. Archiving a medication allows you to keep its details and log history for future reference. On the other hand, deleting a medication removes all information and the history of that medication completely.
To archive, a medication in the Health app on your iPhone, first open the app and tap on "Browse" and then "Medications." Next, locate the medication you want to archive under "Your Medications" and swipe left on it. Finally, tap "Archive" to move the medication to your Archived Medications list.

If you want to delete a medication from your list, open the Health app and select "Browse" followed by "Medications." From there, find the medication you want to delete and tap on it. Then, scroll down to "Options" and tap "Delete Medication." Lastly, confirm your decision by tapping "Delete Medication" again.

So whether you're someone who takes multiple medications a day or just looking for ways to stay organized and healthy, don't overlook the power of these devices in helping you stay on track. Give it a try today and see how much easier life can be with technology at your wrist.
All copyrights@ are reserved to Aptronix.