Started as a local Apple expert with one store at Begumpet in Hyderabad with just 5 employees in 2011, Aptronix is now Apple's National Partner with a vision to be the local Apple expert to every Indian. We are India's Largest Apple Premium Reseller with 48 stores, 14 service centres, and 500+ employees across 14 cities in India.
Aptronix is a one-stop shop for all your favourite Apple products. We have achieved various milestones in these 11 memorable years. We won an Excellence Award from Apple in the year 2016. In 2019 we launched India's first flagship Apple premium reseller store in palladium mall, Mumbai. Famously called the crown jewel of Apple India, it was the first store in India with a new all-white facade, so beautiful that it is Aptronix's signature look now. The acquisition and launch of 5 stores in Chennai became the most significant and vital milestone in 2020. Further, we have expanded our footprint in the North with the acquisition of 10 stores in Delhi NCR & Ludhiana and became the National Partner of Apple. We are the only partner to Apple who caters to serve every customer in 14 service centres and delivers all across India.
Aptronix is a brand synonymous with great customer experiences with a vast array of Apple products for your everyday requirements. We provide hands-on experience to all our customers with the latest products. We aim to keep pace with Apple's growth in India and plan to be a 100-store national partner by 2025. Our stores focus on offering a seamless retail experience with an extensive range of products and accessories.
You can save up to 30% on iPhone, iPad, MacBook, and Apple Watch plus additional HDFC cashback of up to ₹10000.00.

Below are the best offers you can avail yourself in our stores across
India or order online at aptronixindia.com & get Free doorstep delivery
Click here to find your nearest Aptronix Store or you can reach out to your nearest Aptronix store on the contact numbers mentioned below:
Aptronix Hyderabad stores:
Aptronix Banjara Hills -

+91

9182562103

Aptronix

Himayat Nagar - +91

9182562108

Aptronix

Begumpet - +91

9182562101

Aptronix

Jubilee hills -

+91

9182562105

Aptronix Inorbit -

+91

9182562116

Aptronix GVK One -

+91

9182562102

Aptronix Gachibowli -

+91

9182562114

Aptronix Kondapur -

+91

9182562117

Aptronix

AS Rao Nagar - +91

9182562113

Aptronix Kukatpally -

+91

9182562123

Aptronix Punjagutta -

+91

9182562125

Aptronix Hitec City -

+91

9182562124

Aptronix Sarath City Capital -

+91

9182562127

Aptronix Abids -

+91

9182562119

Aptronix Parklane - +91 9182562109
Aptronix Karimnagar
Aptronix Karimnagar - +91

9182562118
Aptronix Vijayawada stores :
Aptronix Benz - +91

9182562134

Aptronix MLBR - +91

9182562136

Aptronix Eluru - +91

8688816808
Aptronix Visakhapatnam stores :
Aptronix Vizag - +91

9182562131

Aptronix Daba Gardens Vizag - +91

9182562132
Aptronix Bangalore Stores :
Aptronix MG Bangalore - +91

9182562145

Aptronix Vijaynagar - +91

9182562147

Aptronix PMC Bangalore - +91

8688816805
Aptronix Chennai Stores :
Aptronix Ambattur -

+91

9182562129

Aptronix ECR Chennai - +91

8688816801

Aptronix Marina Mall - +91

8688816806

Aptronix VR Chennai - +91

9182562130

Aptronix PMC Chennai - +91

8688816799

Aptronix KNK Chennai - +91

8688816800
Aptronix Kochi Store:
Aptronix CSM - +91

8688816803
Aptronix Coimbatore Store:
Aptronix Coimbatore - +91

8688816802
Aptronix Kakinada Store:
Aptronix Kakinada - +91

9182562122
Aptronix Mumbai Stores:
Aptronix Palladium -

+91

9182562144

Aptronix Juhu -

+91

9182562142

Aptronix Borivali -

+91

9182562140

Aptronix Kandivali -

+91

9182562143
Aptronix Delhi Stores:
Aptronix Aerocity - +91

9390105414

Aptronix Promenade - +91

9390105412

Aptronix Kamala Nagar - +91

9390105411

Aptronix Vegas - +91

9390105407

Aptronix Khan Market - +91

9390105416

Aptronix South EX - +91

9347743181

Aptronix Ambience VK -

+91

9390105413
Aptronix Noida Store:
Aptronix Logix city - +91

9390105415
Aptronix Gurugram Store:
Aptronix Ambience GGN - +91

9390105409
Aptronix Ludhiana Stores:
Aptronix Pavillion - +91

9390105422

Aptronix Neopolis - +91

9390105423
Exclusive Offers: on iPhone
Buy iPhone 13 and get Flat 11% OFF. Starting at an effective price of ₹55900.00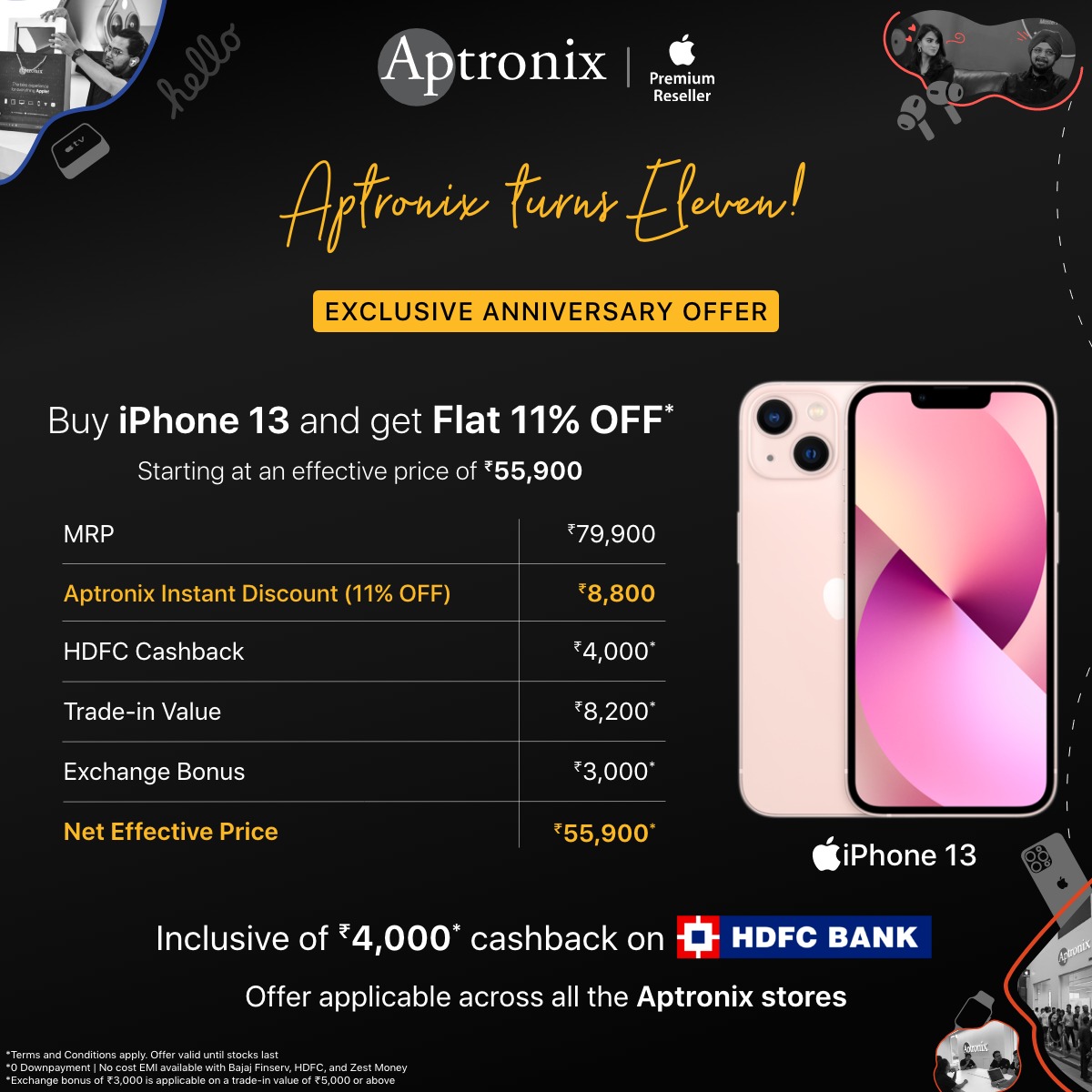 Buy iPhone 12 and get Flat 11% OFF. Starting at an effective price of ₹46100.00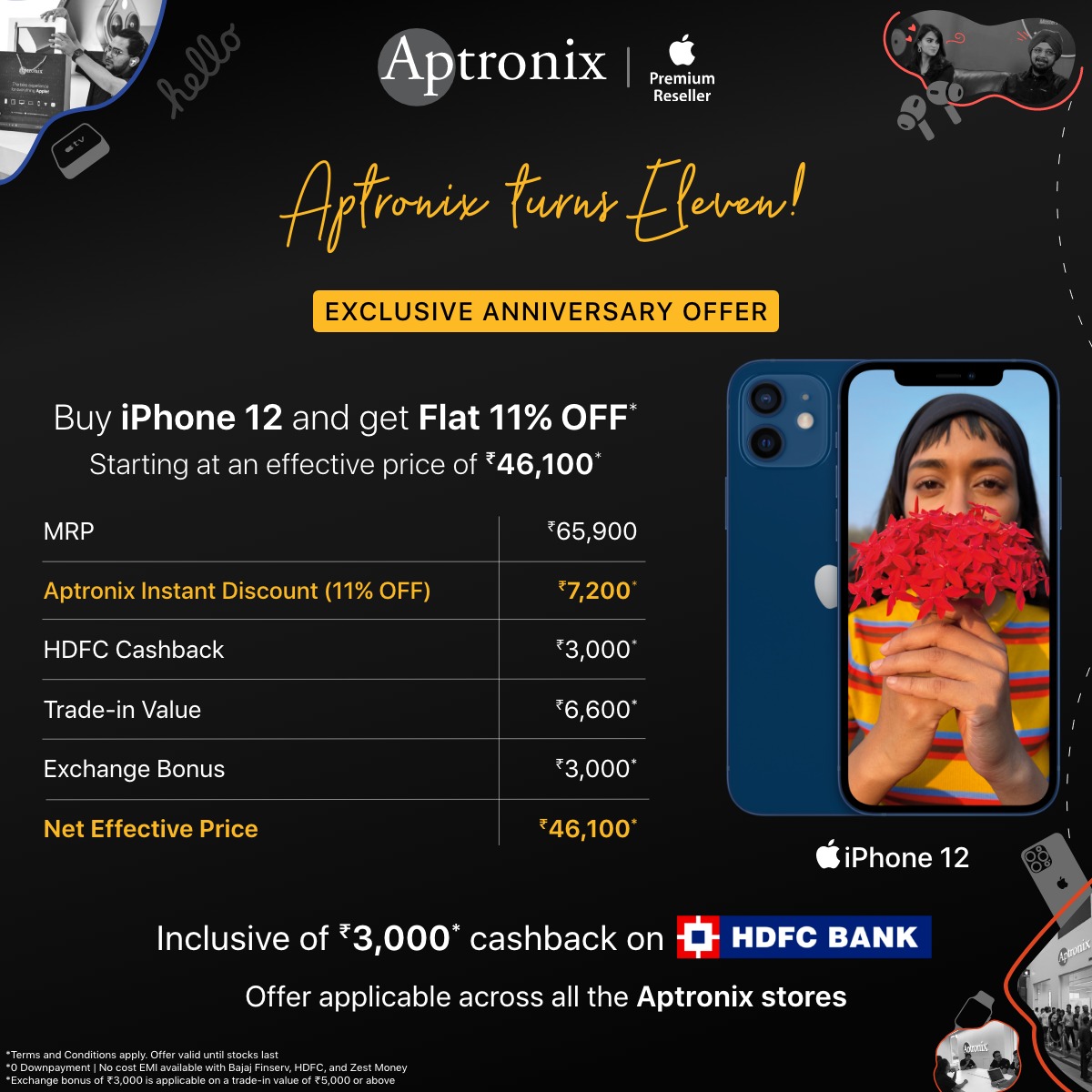 Exclusive Offers: On Mac
Buy any MacBook Pro* and get Flat 10% OFF. Starting at an effective price of ₹103600.00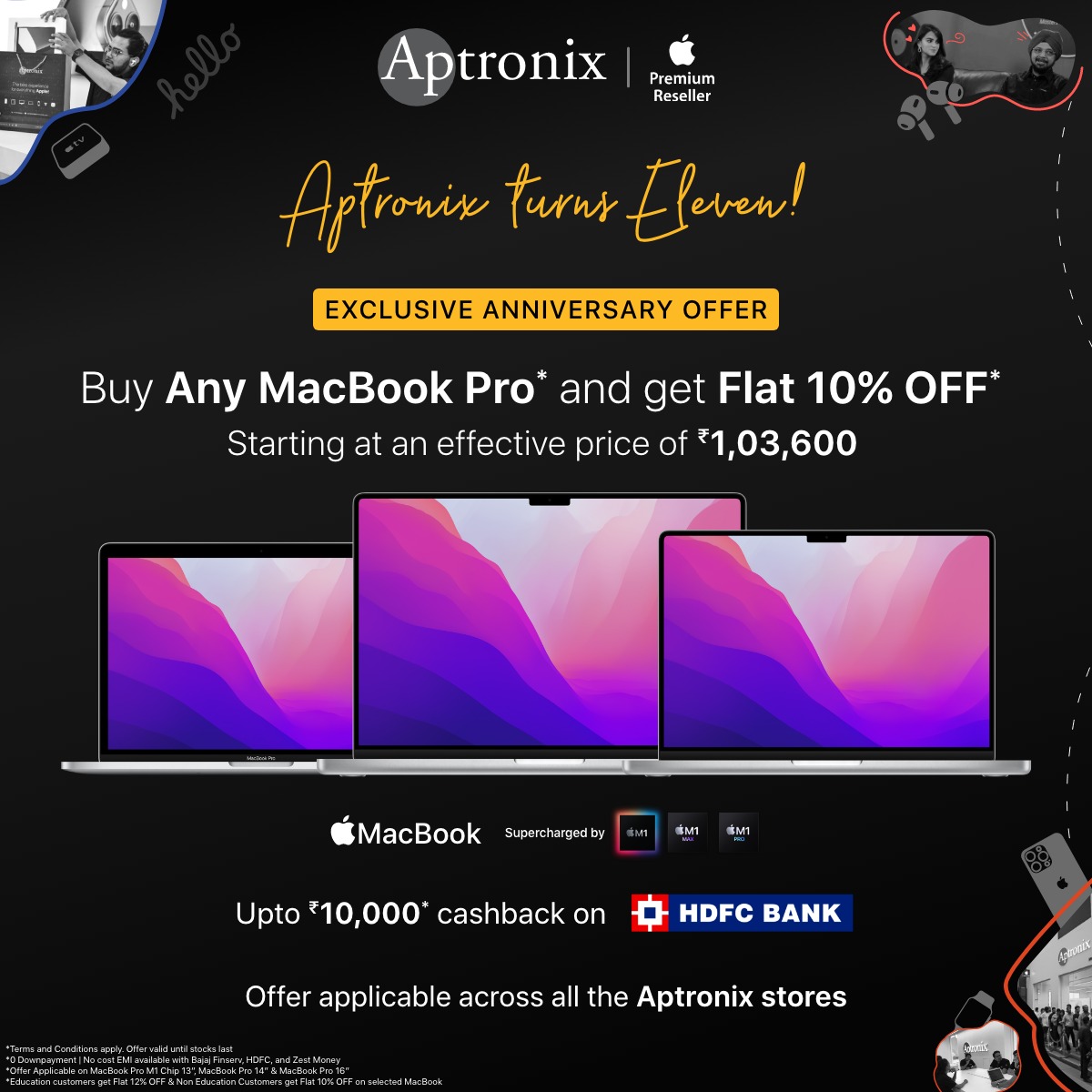 Students & Teachers get up to 12% OFF on selected MacBook (Subject to eligibility)
Exclusive Offers: On iPad
Buy iPad 9th, Gen,* & get Flat 15% OFF or get Free Apple Pencil 1st Gen worth ₹8,500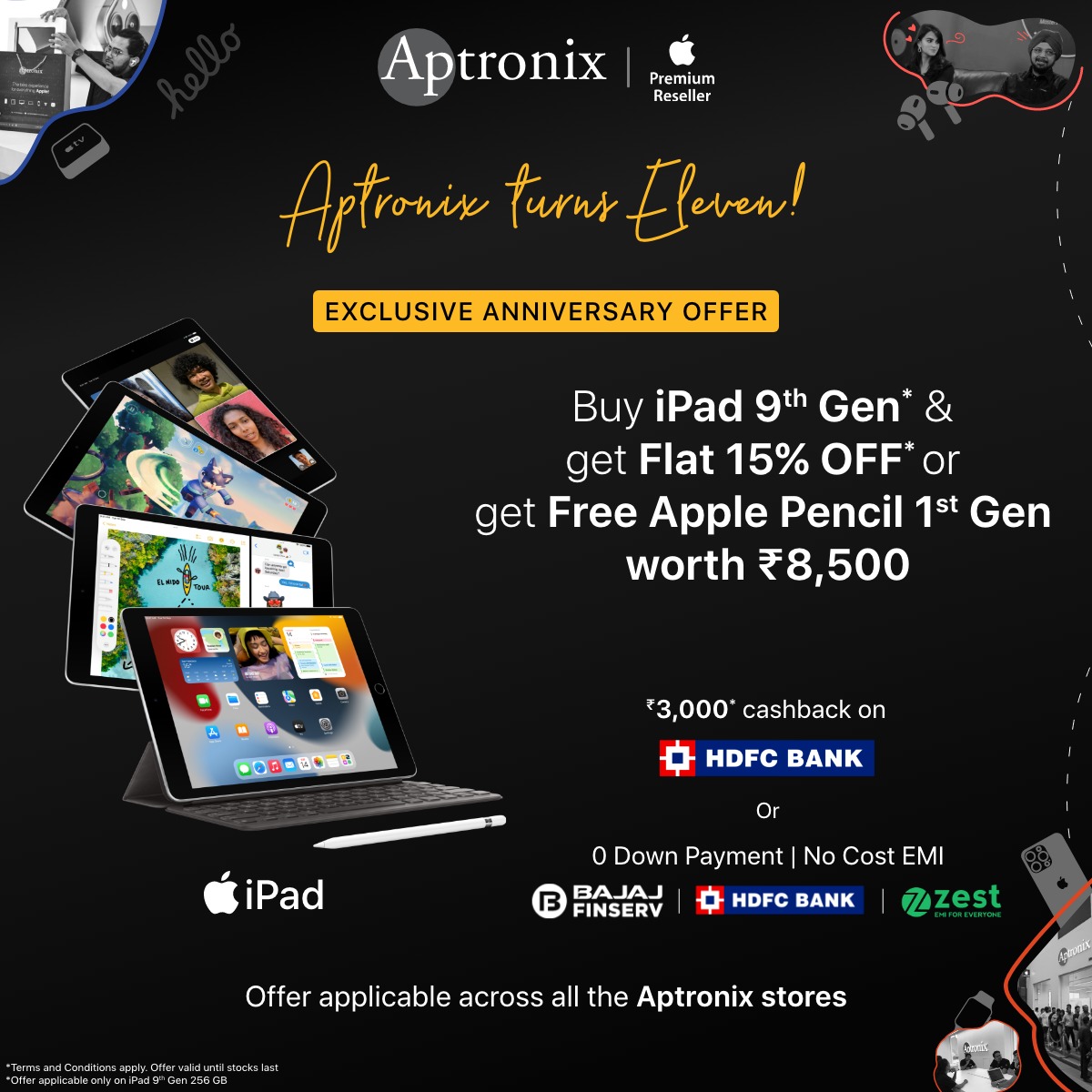 Buy Any iPad and get Flat 15% OFF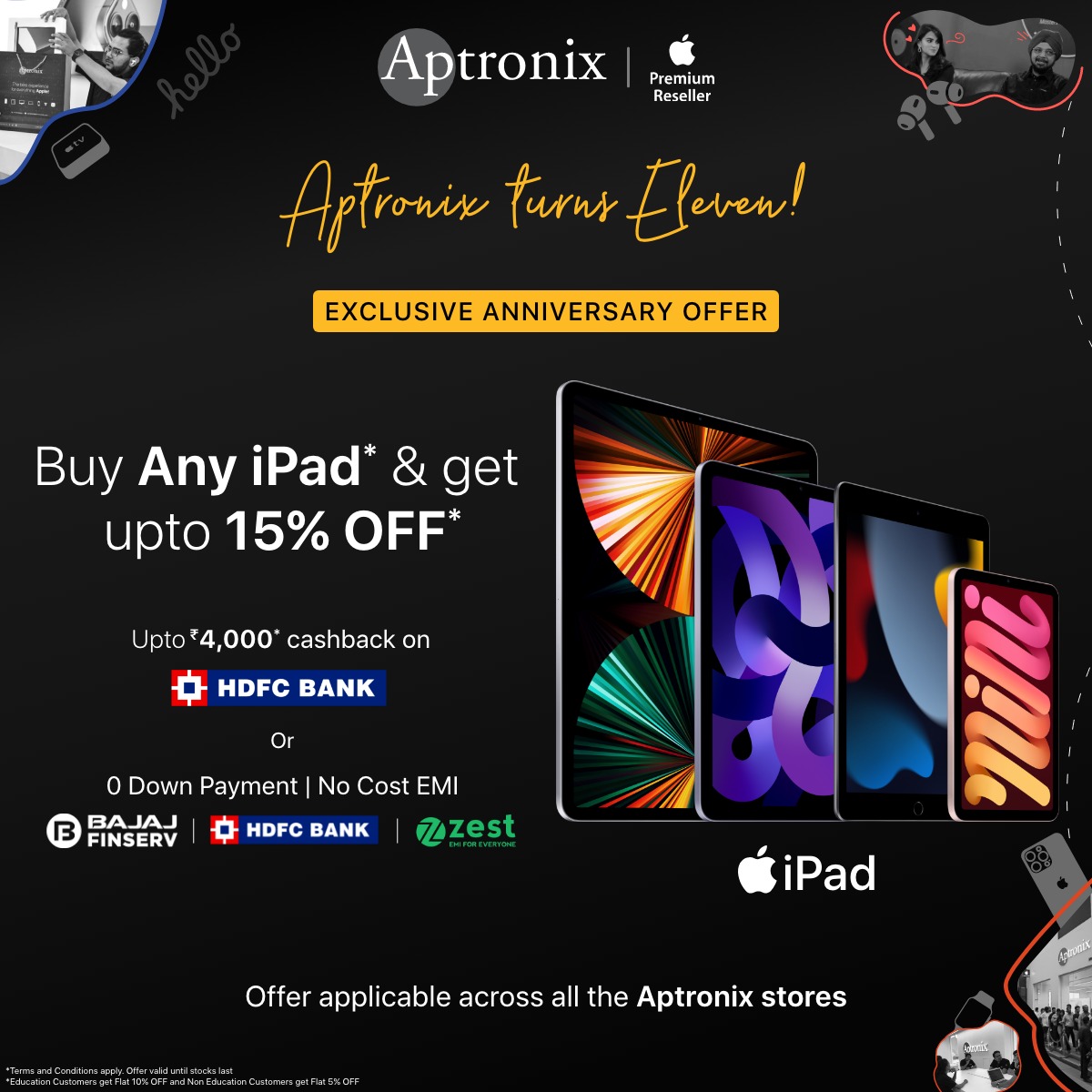 Exclusive Offers: Watches
Buy any Apple Watch and get Flat 5% OFF. Starting at an effective price of ₹26,400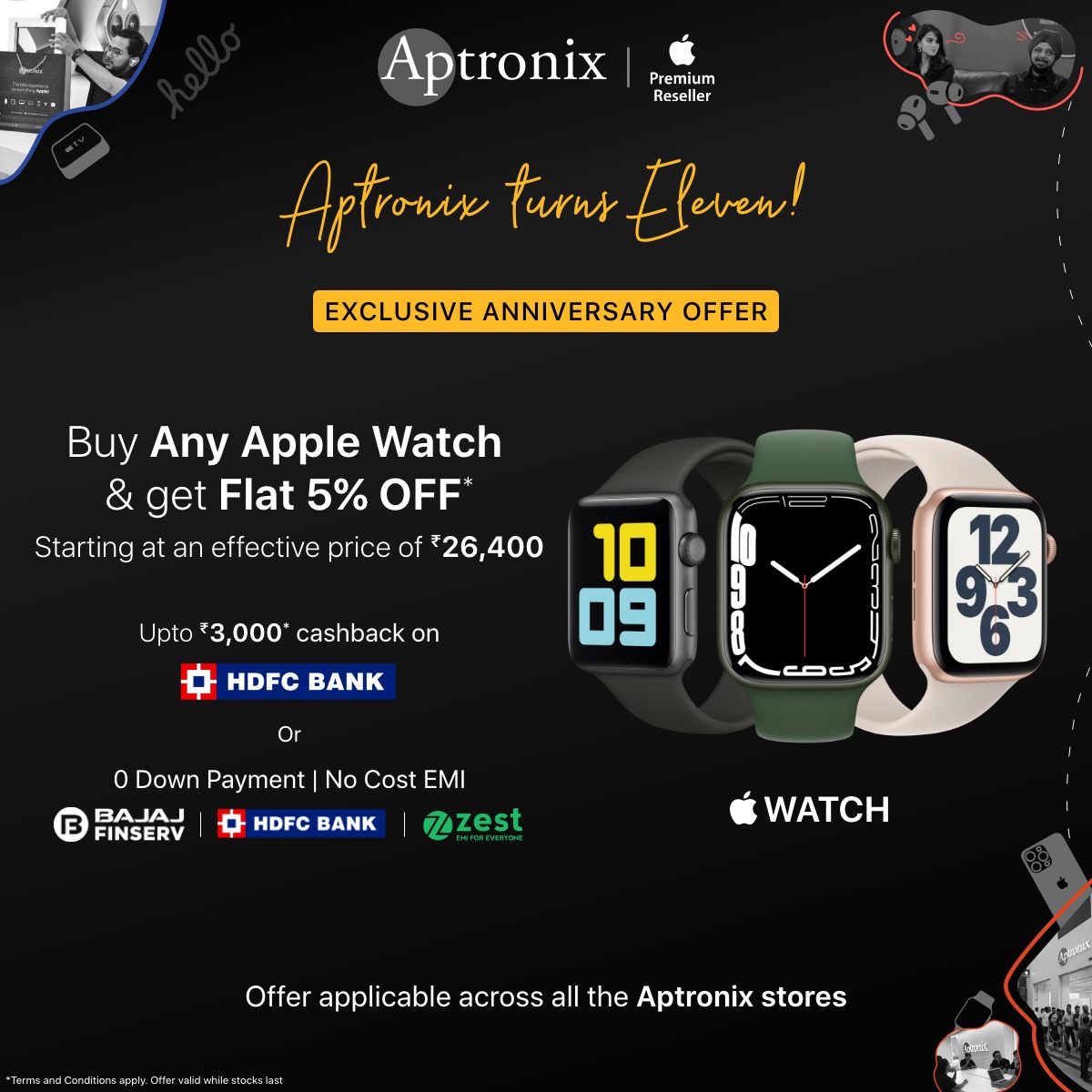 Exclusive Offers: Airpods
Buy Airpods Pro & Get flat 11% OFF Starting at an effective price of ₹20,900